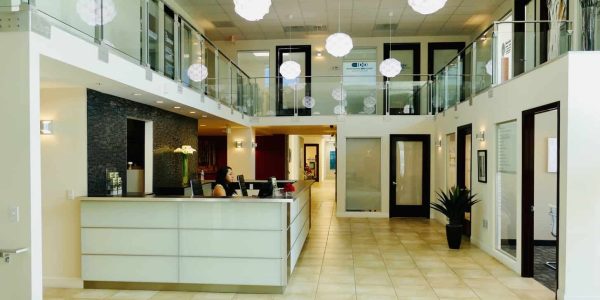 Executive Suites are a flexible and economical alternative to leasing traditional office space
Executive Suites allow your company immediate access to an office space in a prestigious first class building. You can sign an agreement in the morning and occupy your office later that day.
Office Center Cape Coral – Executive Suites. Office space for rent. With Hot Desks you can enjoy flexible agreement terms that allow you to rent by the day, week, month or year.
Twelve Twenty Two Offices take care of all of the details of opening the office for you including setting up your telephone service, high-speed Internet access, computer consulting services, conference rooms and administrative support.
There is no need for you to hire a receptionist! For a small fee our receptionist will answer your telephones and greet your visitors.
Capital outlays for start-up cost for an executive suite are much lower than a traditional office space, since our conference rooms and reception areas are fully furnished and we provide access to office equipment such as copiers, and fax machines on an as needed basis where you only pay for the services that you use. You can also rent furniture for your individual office on a monthly basis.
Office space for rent in Cape Coral
Since Twelve Twenty Tow Offices offers short-term agreements (min 6 months), your company will have the flexibility to increase the amount of space used or downsize as necessary. Many companies also use executive suites to accommodate a temporary space need. Some examples include temporary space while a permanent office is being located or constructed, office space for a special project and as an outplacement benefit for executives.
Executive suites are perfect for large and small companies, entrepreneurs, accountants, financial firms and attorneys.
Internet Services for Executive Suites
Each Executive Office is loaded with network cabling, behind the scenes, that connects to our sophisticated network. This includes firewall protection, spyware, and worm protection, and of course our dedicated high speed internet access.
We understand the sensitivity of confidential information that each client has and we therefore offer options for providing high data security. In addition, through our specialized software, we can create VLANS specifically for your needs to avoid the physical cabling and cords running throughout your office.
VPN (Virtual Private Network) access can be made possible here at Twelve Twenty Two Offices allowing you to work from home but having access to your desktop in your Executive Suite. We have the capability of assigning a Public Static IP address which would allow a secure tunnel to access your information.
Within each Executive Office, we provide multiple jacks at which to connect computers allowing for various furniture configurations, again giving clients more flexibility in their Executive Suite.
We are Built for Business – Visit Us Today!
Designed to combine comfort and luxury in a quiet environment